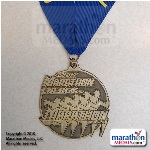 October 26, 2011 – Welcome to MarathonMedals.com.
The latest medals uploaded to the site are to the right.
This has been a busy year. We have been off running marathons, 17 so far and 3 ultramarathons. When we are not working, running, or sleeping, we take as many pictures as we can of marathon medals from around the world and will be adding them to the database soon so that you can enjoy them too. In fact, what is changing in the world of marathoning is that each marathon experience is not limited to the finisher's medal only. Now, there are custom goody bags, duffle bags, backpacks, jackets, tech shirts, and much more. So, we are photographing those too to show all the comes with each race registration and completion.
What is MarathonMedals.com? MarathonMedals.com is the Internet's premier web site where you can search for pictures of marathon medals from around the world, even Antarctica, and they are beautiful. Additionally, if you have finisher's medals from marathons that you have run and would like to share them with the rest of the world, you can contribute them using our Submit page.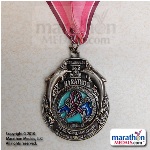 If you have suggestions or ideas for improvement, we would love to hear them. There is a form on the Contact page where you send them to us. On the Home page, you will see the latest medals that have been added to the collection. To see a larger view of any of these medals, simply click on it. (feature coming soon)